We want to make our industry better
Better for our environment, better for society as a whole.
Sustainability is the fundamental cornerstone upon which Telko's business strategy is built. We set out to ensure that we achieve our sustainability goals—and those of our customers—in real terms that are built upon solid LCA analyses and data. That is why we have our own SmartFuture methodology, and have started the process of publishing annual sustainability reports to continually monitor our performance and contribution to the circular economy.
SmartFuture™ from Telko: Sustainable solutions that make business sense
We recognise the changes needed in our industries in order to be a part of our collective future. And yet, finding the right solution isn't always so straightforward. We apply solutions that go beyond easy PR wins and provide evidence-based solutions built around the entire product lifecycle. It could be biodegradable, it could be recyclable - in some situations virgin materials may even be the best option. Whatever offers the best combination of practicality and environmental sounds, we help you find it.
Responsibility in our own actions
Chemical safety and environmental awareness are key to Telko's overall business strategy. We expect every member of our organisation to apply sustainable ways of working at every juncture, and aim to anticipate and avoid any harmful effects on the environment through environmental impact assessment and risk analysis. We comply with all local regulations and legislative requirements concerning our operations and we are highly committed to environmental safety, fair and safe working conditions, and fighting corruption.
Environmental awards and certificates
Adhere to ISO 9001 and ISO 14001 standards.
Member of chemical distributors' Responsible Care program, from 1994, giving another framework for ongoing operational development to exceed minimum standards and regulations.
We apply REACH statutes through our operations for maximum chemical safety. Visit The Finnish Safety and Chemicals Agency website and ECHA website to learn more.
EcoVadis is a good tool to prove our commitment to sustainability. It helps us to share our performance with stakeholders, but it also supports to monitor the performance of our own upstream value chain. Telko's result in EcoVadis sustainability rating in 2022 was scored as 67 (compared to 59 in 2021), gold medal (silver in 2021).
Please see Telko's certificates and commitments here.
Telko's sustainability targets
To support sustainability commitments, Telko defined new environmental, social and corporate governance (ESG) targets for significant parts of sustainability work, and published them at the Aspo Capital Markets Day in December 2021.

These targets were also linked to UN Sustainability Development Goals (SDGs) as seen below.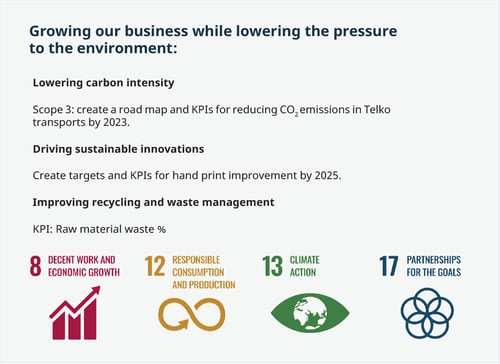 Picture above: Telko's environmental targets (E) and SDGs linked to them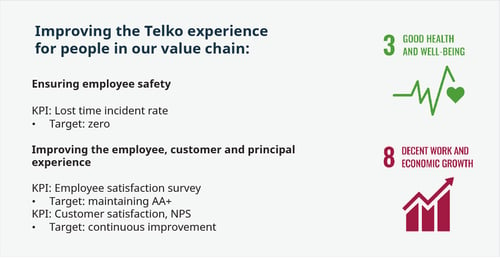 Picture above: Telko's social targets (S) and SDGs linked to them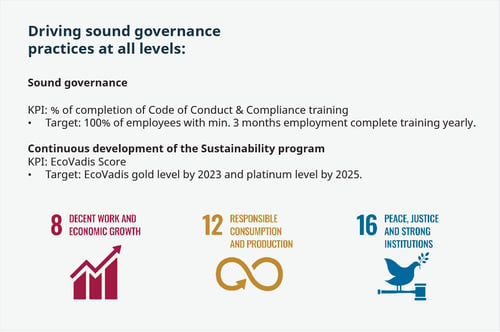 Picture above: Telko's corporate governance targets (G) and SDGs linked to them


Telko sustainability reports
Sustainability Report 2021
Sustainability Report 2020
Responsibility Report 2018 EN
Responsibility Report 2018 RUS
Aspo's commitment to sustainability
In the business operations, Telko's organisation follows Aspo Code of Conduct that ensures the high quality of both the products and services we provide and guarantees responsible way of operating. Telko has also signed the Ethical and Business Principles of the European Association of Chemical Distributors FECC. Telko's Supplier Code of Conduct outlines the principles to which all Telko's suppliers must adhere to. Get to know the Supplier Code of Contact here.