Sustainability - Integral Part of Telko
Sustainability is a key value in all our operations and it is an essential part of Telko's business strategy. We aim to become a sustainability forerunner in our industry. Telko´s main impact to sustainability is created by bringing together customer demands and suppliers´ advanced products and solutions. We address the critical issues beyond the minimum requirements of laws and regulations. Our mission is to bridge industrial customers and principals in a sustainable way.
Chemical safety and environmental awareness are key factors in Telko's success. Sustainable way of working is a responsibility of every member of our organisation. Our goal is to anticipate and avoid any harmful effects on the environment through environmental impact assessment and risk analysis. We comply with all local regulations and legislative requirements concerning our operations and we are highly committed to comprehensive responsibility covering environmental safety, fair and safe working conditions, and fighting corruption.
A key principle in Telko's environmental policy is continuing operational improvement according to ISO 9001 and ISO 14001 standards. The membership in the chemical industry collaboratives Responsible Care program gives another framework for ongoing operational development to exceed the minimum standards and regulations. Telko also applies European REACH statutes to all operations for maximum chemical safety. For more information on REACH and the latest statutes, please visit The Finnish Safety and Chemicals Agency website and ECHA website.


EcoVadis is a good tool to prove our commitment to sustainability. It helps us to share our performance with stakeholders, but it also supports to monitor the performance of our own upstream value chain. Telko's result in EcoVadis sustainability rating was in 2022 (2021) score 67 (59), gold medal (silver).


Please see Telko's certificates and commitments here.

In the business operations, Telko's organisation follows Aspo Code of Conduct that ensures the high quality of both the products and services we provide and guarantees responsible way of operating. Telko has also signed the Ethical and Business Principles of the European Association of Chemical Distributors FECC. Telko's Supplier Code of Conduct outlines the principles to which all Telko's suppliers must adhere to. Get to know the Supplier Code of Contact here.



Telko's sustainability targets


To support sustainability commitments, Telko defined new environmental, social and corporate governance (ESG) targets for significant parts of sustainability work, and published them at the Aspo Capital Markets Day in December 2021.
The key target is to help the whole value chain to reduce the emission intensity. A roadmap will also be prepared for Telko's own indirect Scope 3 by 2023. For years, good governance has given Telko a competitive edge, especially in eastern markets. The goal is to reach the gold level of the EcoVadis sustainability certificate by 2023 and the platinum level by 2025 at the latest.

The chosen sustainability targets are also linked to the UN's Sustainable Development Goals (SDGs) that aim to eradicate extreme poverty and promote sustainable development, while taking into account the environment, economy and people, equally and globally.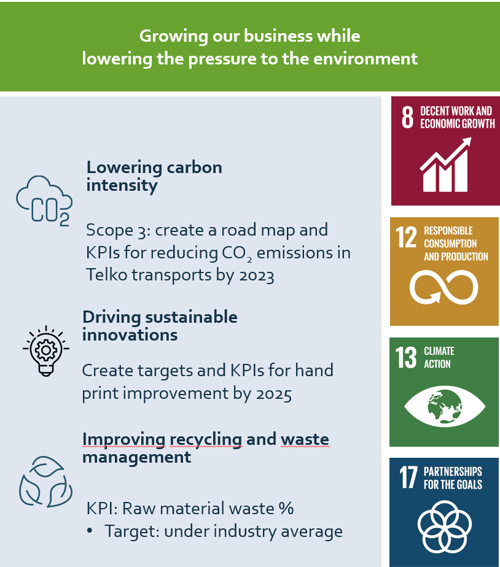 Picture above: Telko's environmental targets (E) and SDGs linked to them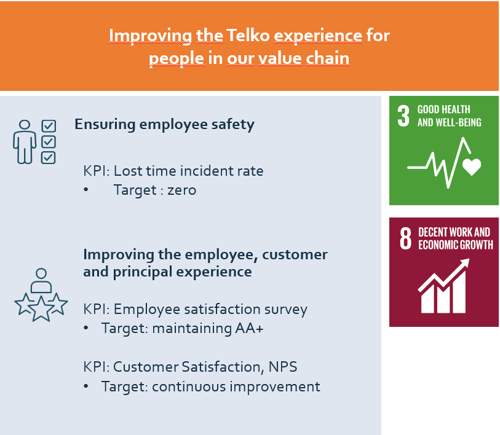 Picture above: Telko's social targets (S) and SDGs linked to them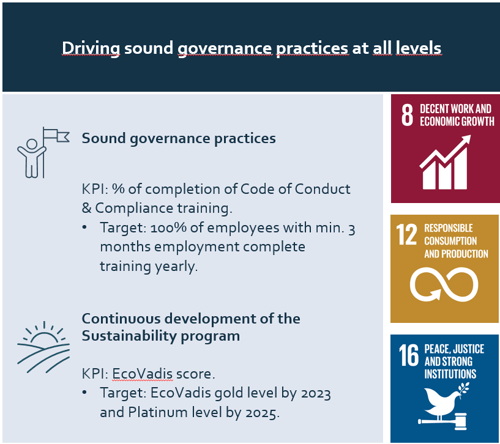 Picture above: Telko's corporate governance targets (G) and SDGs linked to them


Please find all our sustainability reports here